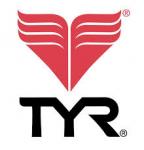 Summary
TYR's entry-level suit is a good choice for new triathletes. It will last for several seasons and provide excellent buoyancy.
Description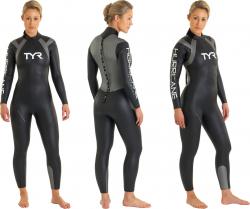 TYR is one of the most popular wetsuit manufacturers for triathletes. The Hurricane 1 wetsuit is the entry level model, with a list price of around $290. The suit offers an impressive list of features that help all levels of swimmers.
The suit is designed to provide good buoyancy for the swimmer. TYR have consulted with several world-class athletes to help establish the optimal body position during the swim. To help maintain this position, TYR includes "Speed Wrap Paneling" throughout the legs, chest and core. These panels are made of Yamamoto Nano SCS Coated neoprene and provide extra bounce to the areas that help maintain a correct position. The panels are 5mm thick, which is important to note, because it's the maximum allowed by USAT regulations.
The grey panels on the shoulders are another feature, designed to help with the swimmer's stroke technique. These panels are called Free Range of Motion Zones and allow the swimmer to reach through the water without constraining the shoulder.
The ankles and wrists on the full-cut suit have features designed to prevent water intake.  The Form Fitting Wrist Cuffs minimize water entering the suit when the swimmer's hand enters and reaches through the water. The Quick Release Ankle Cuffs also minimize water intake but allow the athlete to quickly remove the suit during the swim/bike transition.
The TYR Hurricane Category 1 Women's Triathlon Wetsuit is an excellent choice for beginner- and intermediate-level triathletes. TYR also make the suit in a sleeveless version, The next level up from this suit is the Category 3 and offers extra buoyancy via "360 Core Stabilization Panels."
Ratings & Reviews
Do you own this suit? If so, please rate it below and share your thoughts.