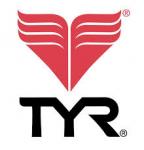 Summary
This is one of the best entry-level, sleeveless suits for women. It provides good buoyancy for swimmers of all levels.
Description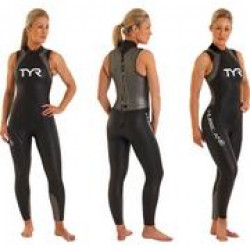 TYR consulted with several top triathletes when designing their Hurricane wetsuit product line. The lead consultant was Andy Potts, who made his mark on the swimming world before winning several half-ironman World Championships. The Hurricane produce line offers three versions — Category 1, 3 and 5.
Although the Category 1 is TYR's base model, it offers plenty of features for all levels of triathletes. The Category 1 Women's Sleeveless Triathlon Wetsuit has a list price of around $225.
Starting from the ground up: The suit has Quick Release Ankle Cuffs to help minimize the amount of water seeping into the suit, yet helping the triathlete during transition one by allowing them to release the ankle fit.
The suit also includes "Speed Wrap Paneling" on the legs, chest and core. The panels, which are made of 5mm Yamamoto Nano SCS Coated neoprene help the swimmer remain in a good body position, while helping conserve energy. The 5mm thickness offers the maximum allowed by USAT regulations.
The suit also includes special zones in the shoulders that help retain a full range of motion. This is important because it's generally accepted that "stroke reach" is an important part of the swimmer's mechanics. Having said that, this is much more of an issue for swimmers choosing a full-cut wetsuit, which covers the arms and shoulders. The sleeveless models do not constrain the shoulders in the same way.
The suit, generally, has been received well by reviewers. Most negative comments cite the suit's tendency to chaff behind the neck. This, however, is a common complaint with most suits.
This is a great suit for anyone looking to get a quality suit that helps conserve energy during the swim, yet doesn't want to break the bank.
Ratings & Reviews
Do you own this suit? If so, please rate it below and share your thoughts.